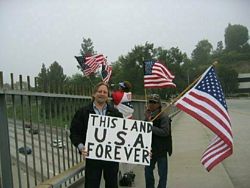 Just saying NO to Aztlan.
American citizens from different neighborhoods and all walks of life spontaneously gathered together for impromptu rallies all over Southern California on May 1st.
American counter protesters took to the streets, some in small groups, some standing alone, just to demonstrate their opposition to the hundreds of thousands of illegal aliens threatening to disrupt America during the Marxist May 1st "Day without Illegal Immigrants" protests.
An American standing up for the Stars and Stripes.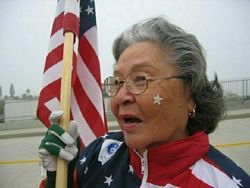 Average American stepped forward May 1st to let other Americans (and the illegal foreign nationals protesting in their streets) that they won't stand for foreign intervention in the internal politics of the US.
PASADENA, CA
Uniting
Under
One
Flag
Bridge
Rally

5/1/06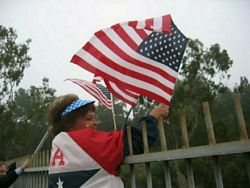 No "El Che" banners waved here!
These rallies didn't get any media attention, but that's OK. Americans, including motorist and pedestrians witnessed their fellow workers, students, church members, veterans, senior citizens, legal immigrants, and others -- supporting our country.
In contrast, illegal alien protestors waved Mexican and other Latin American flags down main street America, demanding "rights" to break our laws.
Waving the flag to L.A. commuters.