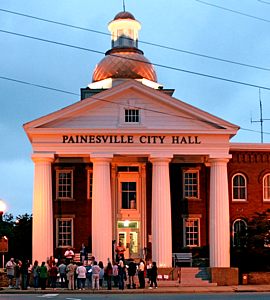 ---
Lake County, Ohio
---
Ohio Jobs & Justice PAC
Go to Home Email: salvi@ojjpac.org
Events in Lake County
The legacy of Painesville's sanctuary policy: Crime
Illegal Alien rapes Painesville teen
OJJPAC to work for repeal Mexican Matricula Consular ID card in Lake County
Cleveland--The founder of OJJPAC.org, Steve Salvi, announced today that OJJPAC.org will work to repeal a Resolution passed by Lake County Commissioners in 2005 which endorsed the use and acceptance of Mexican Matricula Consular ID's in Lake County, Ohio. (Link to the Lake County Resolution here.) Salvi stated that Matricula ID's are a threat to national security and undermines the rule of law. "The only value of a Matricula ID card is to an alien or terrorist illegally living in the United States. For public officials to give official recognition to this fraudulent form of "ID" is tantamount to a subversion of federal immigration law and malfeasance in office" said Salvi. OJJPAC plans to organize opposition to any similar resolutions that are being considered or have already passed in Ohio. OJJPAC successfully opposed a similar measure in Cuyahoga County in 2006.
Candlelight Vigil for

Victims of Illegal Aliens

Painesville, Ohio

Citizens gathered on the steps of Painesville City Hall Tuesday evening to bring attention to the thousands of Americans that have been killed and murdered by illegal aliens.

Citizens read the names of each of the victims of illegal aliens that are memorialized in OJJPAC's "Victims of Illegal Aliens Memorial."

You can visit the Victims of Illegal Aliens Memorial by clicking here.
Is that an Illegal Alien in a Chicken suit?

A judge in Painesville, Ohio decided to give a couple of guys caught up in a prostitution sting near the County Courthouse the option of jail for 20 days or wearing a chicken suit in public. The defendants choose the chicken suit.

A reporter stated that at least one of the criminals didn't speak English--but did anyone bother to check if they are illegals, which are known to be in great number in Painesville? I think it is time for another ICE raid in this town.
SAY "NO" TO AMNESTY RALLY

Citizens in Ohio are on the march for change!

Politicians who support Amnesty...are not our friends.
Illegal Alien Smuggling ringleader and his gang sentenced!
It's time for more arrests in Painsville, Ohio!
Story & Photos from Painesville 8-9-08 Rally here!
Ohio Jobs & Justice PAC

Email: salvi@ojjpac.org

OJJPAC, P.O. Box 46219, Bedford, OH 44146

© 2006-2020 Salvi Communications. All rights reserved.