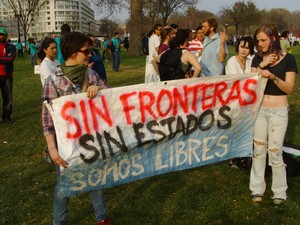 ©2010 OJJPAC.org All rights reserved
This anarchist sign opposes the existence of our nation's boarders and states. Luckily, these anarchists seemed to be more interested in dancing and drawing attention to themselves rather than inciting violence during this rally.
Illegal Aliens Rally in our capital: Demand that the Obama Administration pay them off for supporting his campaign
March 21, 2010 By Steve Salvi
Washington, D.C.---Tens of thousands of illegal aliens, the vast majority from Mexico, and Latin America, converged on the National Mall in Washington, D.C. Sunday to demand that the U.S. government grant them amnesty and legalization.
More specifically, many of the participants held signs and chanted messages directly to President Obama to fulfill his promise of amnesty--for which many seem to believe was part of a quid pro quo---election support for Obama by the so-called Hispanic-Latino vote for Obama's support for "comprehensive immigration reform," a misnomer for a general amnesty for millions of illegal aliens.
The Campaign to Reform Immigration for America (RIA), a self-descried "part" project of the infamous Tides Advocacy Fund, organized the march. Dozens of pro-amnesty groups from around the country participated.
Lending support to the illegal alien marchers were Methodist and Catholic church groups, anarchists, the Service Employees International Union, and individual citizens. Many of the participants were bussed into the nation's capitol for the rally. Reportedly at least 6 busses alone were charted just from Northeastern Ohio.
The legislation the illegal aliens want passed is H.R. 4321, the Comprehensive Immigration Reform for America's Security and Prosperity Act, also known as the CIR ASAP act.
Currently 94 members of congress has co-sponsored the CIR ASAP. To see which members have co-sponsored the bill, click co-sponsors.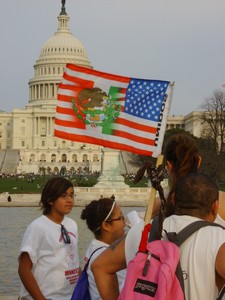 ©2010 OJJPAC.org All rights reserved
Demonstrating disrespect for the U.S. flag by overprinting it with the Mexican coat-of-arms.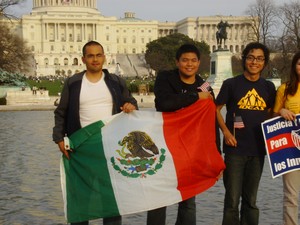 ©2010 OJJPAC.org All rights reserved
Proud Mexicans display the Mexican Flag in front of the U.S. capitol. They seek amnesty today so that in the future they will have the power to make it their capitol.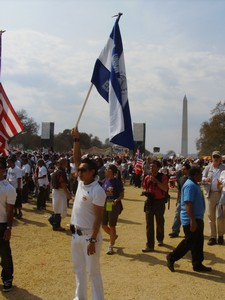 ©2010 OJJPAC.org All rights reserved
One of the many foreign flags that illegal aliens displayed on the National Mall.