Ohio Jobs & Justice PAC Homepage Facebook Email Steve Salvi: salvi@ojjpac.org
Archived National Illegal Alien Crime News
A sampling of the thousands of crimes committed by illegal aliens in the U.S. every year.
For Ohio specific illegal alien crime news, click here.
Alleged Illegal Aliens arrested for selling cocaine
Alleged Illegal Alien escapee capture in Oregon
Alleged illegal alien steals L.A. Fire Dept. Jacket off Firetruck
Note: Story links below have not yet been checked to see if they still work. Please report "dead" links.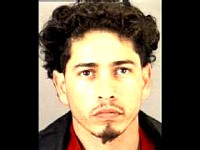 Illegal Alien from El Salvador arrested for beating frail 78 year-old woman with pipe
If Congressional Democrats (including all Democratic candidates for president) would have been successful in passing their amnesty plans for illegal aliens in 2007, this scum would have gotten U.S. citizenship. That's not the type of "change" that Americans want. Read story here. And I'm tired of Ohio Democratic Senator Sherrod Brown saying illegals are victims. The only victims are American crime victims and taxpayers.
Illegal Alien thug
Illegal aliens aren't so innocent.

Just ask this 2 year old.

Thanks to an illegal alien, this innocent American citizen now has over $15,000 in credit card debt at age two. To make matters worse, your public officials plan to give her perpetrator amnesty and US citizenship!

Call your public officials. Tell them: NO AMNESTY FOR ILLEGALS!

Identity theft... As simple as taking credit from a baby!
Stupid!
Illegal arrested for child molestation jumps bail...Duh!
1-7-06 A judge's decision to set an alleged Mexican illegal alien molester's bail at $5K was a stupid decision. After being released on bail, the defendant didn't show up to court...duh! OJJPAC would like to know why there wasn't an Immigration and Customs Enforcement hold on the illegal which would have prevented the defendant from being released. Read story here.
Go to Home email: salvi@ojjpac.org