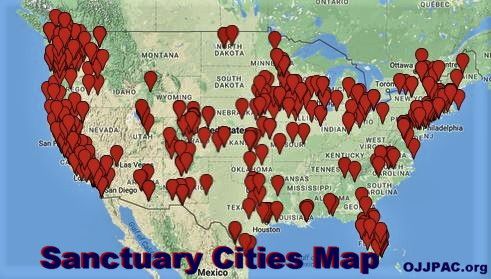 ---
Sanctuary Cities Map
---
By Ohio Jobs & Justice PAC
Homepage Facebook Email Steve Salvi : salvi@ojjpac.org
Sanctuary Cities Map (Clickable) below
Updated March 27, 2017 by OJJPAC.org
Note: Map 'pinpoints' have been reduced in size to reduce visual overlap of city and county sanctuary jurisdictions.
Map Viewing Tips Below
Click these icons on map to: + = Zoom In - = Zoom Out [ ] = View Larger Map
Cities = Blue dots Counties = Red dots State Policies = Purple Dots Repealed Policies = Green dots
You can't break the map so feel free to click around, move around,
share it (there's an icon for that), and explore the map. The more you look the more you will find!

About the Sanctuary Cities Map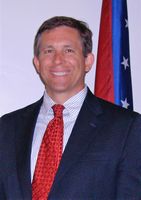 Welcome! Thank you for visiting the OJJPAC Sanctuary Cities Map webpage. I am Steve Salvi, Founder of OJJPAC.org. I created the Sanctuary Cities List in 2006 and with the help of citizen activists all across the U.S., it has become the most accurate and complete list of sanctuary jurisdictions in the U.S. for the past decade.

The above map pinpoints about 500 political jurisdictions that have either formal or informal sanctuary policies. Some of the jurisdictions dispute their inclusion on the list, and those disputes are noted on the OJJPAC sanctuary cities page (see hyperlink below). The sanctuary map also pinpoints jurisdictions that have rescinded (allegedly) their sanctuary policies. The sanctuary list is regularly updated so the map will change over time too.

As you can see from the map, illegal sanctuaries have been allowed to spread like a cancer across our great nation. Sanctuary policies are not only illegal, they undermine the rule of law, erode U.S. sovereignty, protect international drug cartel that operate in the U.S., harm U.S. workers and lawful employers, and result in the injury and death of thousands of American citizens some of which are memorialized here: Victims of Illegal Aliens Memorial.

It is and has been my goal for the past 11 years to expose these local and state governments and encourage citizens to demand that their sanctuary policies be repealed.

For more information, click the The Original List of Sanctuary cities, USA.
Ohio Jobs & Justice PAC Go to Homepage

Email: salvi@ojjpac.org OJJPAC, P.O. Box 46219, Bedford, OH 44146

© 2006-2020 Salvi Communications. All rights reserved.