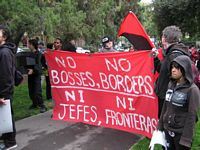 ---
OJJPAC: Arizona 1070
---
Ohio Jobs & Justice PAC
Homepage Facebook Email Steve Salvi: salvi@ojjpac.org
Arizona 1070 Archive
(Scroll down for information and articles regarding the State of Arizona's attempt to combat illegal migration.)
U.S. Supreme Court releases Arizona 1070 opinion

Legal status check inquiries OKed; other enforcement provisions responsibility of feds
Left to right: Congressman Louis J. Barletta (former Mayor of Hazelton, PA) and Steve Salvi, Founder of Ohio Jobs & Justice PAC. (OJJPAC file photo)

U.S. Supreme Court Decisions:

Supremes order Fed Appeals Court to rethink its opinion on Hazleton illegal alien ordinance

In light of the recent U.S. Supreme Court decision in favor of Arizonaís illegal alien hiring sanctions law, the Supreme Court has now ordered the 3rd U.S. Circuit Court of Appeals to rethink its decision against the City of Hazeltonís Illegal Immigration Relief Act. The city ordinance provided for penalties to businesses that hired illegal labor and landlords that provided housing to illegal aliens. Read story here.

Steve Salvi, Founder of Ohio Jobs & Justice PAC, stated that the U.S. Supreme Courts order was a good dose of legal common sense given that the federal government has failed to perform its constitutional duty to adequately enforce existing immigration laws. "If the federal government won't do its job, local and state governments have no choice but to use their legal authority to fill the enforcement void to protect their citizens and local economies." said Salvi.
Ohio Jobs & Justice PAC

Go to Homepage

Email: salvi@ojjpac.org

OJJPAC, P.O. Box 46219, Bedford, OH 44146

© 2006-2018 Salvi Communications. All rights reserved.