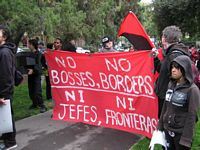 ---
OJJPAC: Arizona 1070
---
Ohio Jobs & Justice PAC
Homepage Facebook Email Steve Salvi: salvi@ojjpac.org
Arizona 1070 Archive
Note: Dead links on this page were removed in January, 2020.
U.S. Supreme Court releases Arizona 1070 opinion
Legal status check inquiries OKed; other enforcement provisions responsibility of feds
Left to right: Congressman Louis J. Barletta (former Mayor of Hazelton, PA) and Steve Salvi, Founder of Ohio Jobs & Justice PAC. (OJJPAC file photo)

U.S. Supreme Court Decisions:

Supremes order Fed Appeals Court to rethink its opinion on Hazleton illegal alien ordinance

In light of the recent U.S. Supreme Court decision in favor of Arizonaís illegal alien hiring sanctions law, the Supreme Court has now ordered the 3rd U.S. Circuit Court of Appeals to rethink its decision against the City of Hazeltonís Illegal Immigration Relief Act. The city ordinance provided for penalties to businesses that hired illegal labor and landlords that provided housing to illegal aliens.

Steve Salvi, Founder of Ohio Jobs & Justice PAC, stated that the U.S. Supreme Courts order was a good dose of legal common sense given that the federal government has failed to perform its constitutional duty to adequately enforce existing immigration laws. "If the federal government won't do its job, local and state governments have no choice but to use their legal authority to fill the enforcement void to protect their citizens and local economies." said Salvi.
In Arizona:

Hispanic group targets Sen. Pearce for recall because of pro-immigration enforcement stance

Because Arizona State Senator Russell Pearce was the sponsor of S.B. 1070, the illegal immigration enforcement law passed last year by the Arizona legislature, an Hispanic group has targeted him for recall. Read story here.

Protect an American Patriot!

As a result of the Pearce recall drive, supporters of Senator Pearce are now organizing to defeat the recall attempt. A citizens' committee, called "Citizens Who Oppose The Pearce Recall" have created the Protect an American Patriot website, where Pearce supporters can donate to help defeat the recall effort.

Arizona Litigation News:

Another Arizona law challenged

Arizona law supporting referendum barring courts from awarding punitive damages to illegal aliens faces constitutional challenge.

U.S. Supreme Court upholds 2007 Arizona law that punishes businesses that hire illegal aliens

The losers: The ACLU and U.S. Chamber of Commerce who had challenged the Arizona law.

Illegal aliens leave Arizona schools:

That's good!

But you wouldn't know it by this writer's story!

Francis Fox Piven's socialist group at it again!

Democratic Socialists of America attempt to boost membership by attacking Arizona's SB 1070

DSA tries to recruit Latinos by scaring them with false claims

U.S. Supreme Court to hear arguments in Legal Arizona Workers Act case

Read story here Read story here.

Can states penalize businesses that knowingly hire illegal aliens?

The Obama DOJ Double Standard

While president Obama's political appointees at the U.S. Dept. of Justice seem excited about pursuing a lawsuit against the Arizona's SB1070, they seem disinterested in prosecuting any case in which public officials have created sanctuaries for illegal aliens. While Arizona's SB1070 mirrors federal law (for the most part), many sanctuary ordinances and resolutions clearly violate federal law. There is clearly a double stand at work at the DOJ.

Here is a story about Takoma Park--which has sheltered illegal aliens for over two decades.

Obama's DOJ sues Arizona again [while letting illegal alien criminals run free]

In the Courts:

The other Arizona immigration law case to be heard by U.S. Supreme Court

Attorney General Holder calls upon police chief collaborators to undermine Arizona law

The police chiefs (of sanctuary cities outside Arizona) play politics with the lives of the citizens of Arizona

Cowards & Collaborators

The Obama Administration may not allow ICE to detain and deport illegal aliens in Arizona

Is the Obama administration attempting to cause chaos in Arizona so he can send in his DOJ goons to arrest his opponents? You have to wonder when the President takes sides with a corrupt Mexican regime over the State of Arizona. If the feds don't do their job, don't be surprised if Arizonans take up arms to protect their people and property from the 500,000 aliens that illegally enter their state each year.

Ohio Jobs & Justice PAC

Go to Homepage

Email: salvi@ojjpac.org

OJJPAC, P.O. Box 46219, Bedford, OH 44146

© 2006-2020 Salvi Communications. All rights reserved.