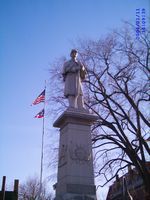 ---
Immigration Policy
Recommendations
---
Ohio Jobs & Justice PAC Go to Home
"Credibility in immigration policy can be summed up in one sentence: Those who should get in, get in; those who should be kept out, are kept out; and those who should not be here will be required to leave."
-- Congresswoman Barbara Jordan, February 24, 1995
President Obama can take the following steps to immediately improve national security:
Assign US troops to patrol our borders and seaports for people (and weapons) illegally entering the United States.
Direct the Department of Homeland Security (DHS) to enforce existing federal law barring employment of illegal aliens and aggressively prosecute violators.
Direct DHS to immediately start aggressive interior enforcement of immigration laws.
Improve safeguards for "whistleblowers" engaged in administering and enforcing immigration law.
Fire all political hacks within DHS management and appoint qualified managers who want to enforce the laws.
Legislative reforms that Congress can take to improve national security:
Repeal the Kennedy amendment to the 1996 immigration reforms which made "mere membership" in a terrorist organization insufficient grounds for barring aliens from entering the US.
End the practice of illegal alien "anchor-baby" citizenship.
End "chain immigration" by limiting the number of people a permanent resident alien can bring into the US.
Simplify denaturalizing process for naturalized citizens who obtained citizenship through fraud, deception or after being convicted of a felony.
Increase the number of Border Patrol agents.
Improve safeguards for "whistleblowers" engaged in administering or enforcing immigration law.
Require state and local law enforcement agencies that receive federal funding to deputize their officers to enforce immigration law under Sec. 133 of the 1996 immigration reform act.
Prohibit federal, state and local governments from accepting drivers' licenses of any state which do not require license applicants to adequately prove they are legally present in the US.
Prohibit federal, state and local governments from accepting foreign consular identification cards for identification purposes.
Prohibit foreign nationals from giving political contributions to US political parties and candidates for public office.
Prohibit federal government employees from accepting anything of value (including employment and contracts) from a foreign government or it's agents, for 20 years after leaving government service.
Enforce consular treaties barring consuls and all other diplomats and employees from participating in US political affairs.
Legislation which would encourage illegal aliens to voluntarily leave the US and return to their homelands (where they can reunite with their families and work to improve their own communities and economies):
Prohibit banks and financial institution from opening accounts for illegal aliens.
Reject illegal alien amnesties and "guest worker" legislative schemes.
Eliminate rules that authorize public benefits for anyone other than US citizens and legal residents.
Prohibit illegal aliens from receiving social security benefits.
Enact a law that would end the practice of giving illegal aliens free public education. (While American families are struggling to pay their bills, why should taxpayers have to bear the cost of an illegal's K-12 education, which costs Americans over $100,000 per pupil?)
Prohibit non-citizens from voting in federal, State or local elections.
Require photo ID at time of voting.
End voter registration by mail.
Prohibit federal aid to public colleges and universities that grant in-state tuition rates to illegal aliens or those enrolled or funded by foreign governments.
Measures to re-establish assimilation as the goal of US immigration policy:
Impose severe civil and criminal penalties on those who knowingly violate or aid others to violate citizen-only voting laws.
Phase in English only election ballots.
Enforce existing requirements of proficiency in English and knowledge of US history as prerequisites for citizenship.
Prohibit US citizens from voting in foreign elections.
Visa Reform Proposals
Simplify and secure visa system.
Transfer visa issuing authority from the Department of State to DHS.
Expand the Federal Tort Claims Act to include federal employees who are negligent in carrying out their obligations to screen visa applicants.
Note: Thank you to the 9-11 Families for a Secure America for this information.