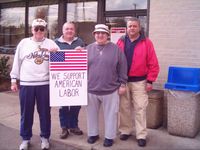 ---
E-Verify News
---
Ohio Jobs & Justice PAC
Homepage Facebook Email Steve Salvi: salvi@ojjpac.org
Have you E-Verified yourself today? Read story here.
Businesses fear expansion of E-Verify program will hamper use of illegal labor Read story here.
RI Governor Lincoln Chafee kills E-Verify; illegal aliens cheer
Chafee rescinds 2008 E-Verify executive order cracking down on illegal alien hiring violations
OJJPAC visits Nevada's U.S. Senator Reid's office with allied citizen activists to request the passage of E-Verify

U.S. Capitol News -- Ohio Jobs & Justice PAC's Steve Salvi and a number of civic leaders met with Senator Reid's staff recently to request the Senator's support for the reauthorization of the E-Verify program. E-Verify helps companies verify that their potential new hires are authorized to work in the U.S., preventing the illegal displacement of American workers.
Ohio Jobs & Justice PAC

Go to Homepage

Email: salvi@ojjpac.org

OJJPAC, P.O. Box 46219, Bedford, OH 44146

© 2006-2020 Salvi Communications. All rights reserved.