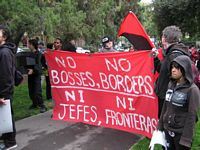 ---
OJJPAC: ACORN
---
Ohio Jobs & Justice PAC
Email Steve Salvi: salvi@ojjpac.org
The ACORN Corruption Archive
(Association of Community Organizations for Reform Now)
2-10-15 Death or Reincarnation? The story of ACORN, Published in the Non-Profit Quarterly
(OJJPAC note: A generous analysis of the downfall of ACORN written by those who are likely sympathetic to ACORN. How many times did they unnecessarily use the word "conservative?")
ACORN workers allegedly help undercover "pimp/prostitute" get housing, commit tax fraud, and help with 13-year-old illegal alien child sex trade scheme!

If you don't believe what ACORN workers are doing, watch this video (and parts 2,3, and 4 on Youtube). Decide for yourself.

Watch the video (part 1)

More ACORN Monkey Business...

The FBI and other law enforcement agencies made a number of arrests of ACORN (Association of Community Organizations for Reform Now's) voter registration workers... Read story here.

ACORN workers allegedly involved in Voter Registration Fraud in Florida

Prosecutors charge ACORN workers with election fraud

Prosecutors in a number of states are conducting election fraud investigations involving Association of Community Organizations (ACORN) workers. Here is an Associated Press story by Joe Mandak about several ACORN workers facing prosecution for fraud in Pennsylvania. Read the story here.
Go to Home

Email: salvi@ojjpac.org

OJJPAC, P.O. Box 46219, Bedford, OH 44146

© 2006-2020 Salvi Communications. All rights reserved.